Best Free Cydia Hacks
advertisements

Jailbreak simply makes everything awesome. It gives an iOS user the ability to customize their own iOS device, download Cydia hacks, game hacks, and use in-app purchase cracker to install paid apps for free. It works like the supernatural that every iOS user wants to try it. Other than free tweaks and games, jailbreak user also can download Cydia hacks for games to receive enormous power, unlimited lives, money or gold to pass every stage in the game.
Today, the iOS 8 jailbreak is out and iOS 7.1.2 jailbreak is already stable, it is time to check out the top 10 best free Cydia hacks for games in 2015.
1. Candy Crusher
Candy Crusher is one of the best Candy Crush Cydia hacks. This hack allows you to apply a selection of cheats to win any level of Candy Crush Saga game. You can use Candy Crush hacks to get unlimited lives, score multiplier, swap candies anywhere or unlock all levels if you are playing Candy Crush with an iPhone, iPad or iPod Touch.
Cydia Sources for Candy Crusher: BigBoss Repo (Free)
2. AppCake
AppCake is without doubt one of the best Cydia hacks for iOS 8. This app is feeding thousands of tweaks that you can't find it elsewhere, for example, cracked themes, beautiful icons, lockscreen tweaks and many more. Only this reason, AppCake is often considered as one of the best Installous alternatives.
3. Minecraft Pocket Edition Cheats
This Cydia hack brings a lot of wonderful mods and cheats to Minecraft PE (Minecraft Pocket Edition). It is currently the best Minecraft PE Cydia hacks for infinite health, sprint, no fall damage, one hit kill, instant destroy, Mobs move faster, full armour, free craft, extinguish fire, move on lava, zero gravity and more.
Cydia Sources for Minecraft Pocket Edition Cheats: BigBoss Repository (Free)
4. Madden NFL Mobile Hack
Madden NFL Mobile Hack is one Cydia hack for Madden mobile game. With this hack, you can add unlimited cash, unlimited coins and select maximum stamina or double XP.
Cydia Sources for Madden Mobile hacks: MyrepoSpace (Free)
5. iAP Cracker
iAP Cracker is a tweak that skips the payment page and redirect jailbreak users to download the app for free. In other words, it gives you the power to install any in-app purchase app for free. To get cracked apps with iAP Cracker, you need to download Cydia and get it from xSellize repo.
Cydia Sources for iAP Cracker: xSellize. xSellize is also well-known for its game hacks such as Storm 8 hacks, Tiny Village hacks, The Blockheads hacks, Simpsons Tapped Out hacks and Asphalt 8 hacks.
6. XModGames for Clash of Clans
Xmodgames is a very straight forward Cydia repo that gives you Clash of Clans hacks. With this hack installed, you can bring the cheat menu out while playing Clash of Clans on your iPhone or iPad. Select Sandbox mode and you can start to attack. Instead of xmodgames, you can also try xxAssistant for Clash of Clans hacks.
Cydia Sources for Clash of Clans hacks: apt.xmodgame.com (Free)
7. Cydia hacks for Instagram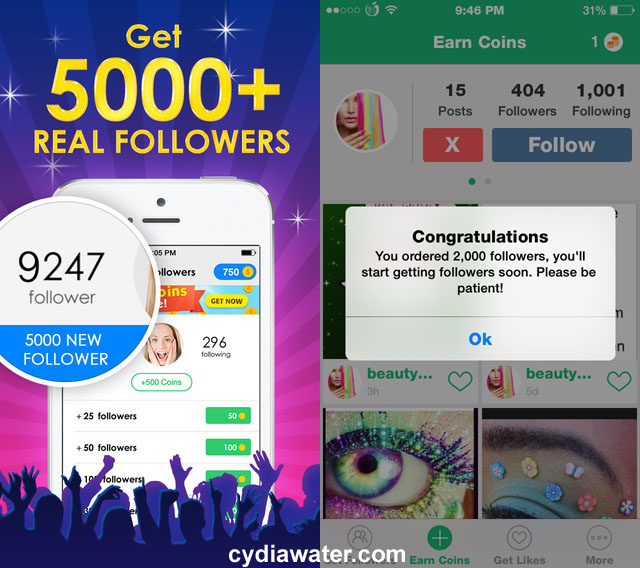 If you want to get 100-5000 extra followers for Instagram, you can try some of the Cydia tweaks in Cydia App Store such as follow4follow and Famousgram. Both of these are the most famous Instagram Cydia hacks and their only job is to give you extra followers. In order to download these apps, you will need to download iFile.
8. CopyDock
CopyDock is a cool Cydia tweaks for iOS 8 but it is made for iOS 6 and iOS 7. This tweak basically turns an iOS 6 or iOS 7 devices to look like iOS 8. With CopyDock installed, you can have the look of iOS 8.1.2 style dock on your iPhone 5S, iPhone 5, iPhone 5C, iPhone 4S or iPhone 4.
Cydia Sources for CopyDock: BigBoss Repo (Free)
advertisements