Download AppSync to iOS 7 from Cydia
advertisements

In jailbreak world, AppSync is a must-have Cydia tweak. 99% of jailbroken iOS device including iPhone, iPad, and iPod are installed with AppSync. What is AppSync and why everyone download it to their iOS device? When you buy an app from Apple App Store, the app is signed by Apple particularly for your iOS device to make sure it is not transferable from yours to another. This is to protect an app being copied from one device to another without permission. In other words, this is to avoid someone paid once and duplicate the app to others. As for a cracked app, it is a modified app and that is why it is not signed. No one is able to install an app if it is not sign. Here comes the importance of having AppSync. It allows you to install apps that are not signed. In short, AppSync is the gateway to all kind of cracked apps. Without AppSync, you can't install free apps from the most famous Installous alternatives such as iFunBox, Zeusmos, Pandaapp, HipStore, and others.
For those who have just jailbreak their iOS device, these are some scrumptious steps to download AppSync to iOS 7 from Cydia.
Step 1: Jailbreak your iPhone, iPad, or iPod Touch is the first thing to do. Once it is jailbreak, download Cydia to your iOS device and restart it. Launch Cydia and go to Manage. At the Manage screen, tap on Sources and then tap on the Edit button located on top. Now tap the Add button at top left and you will see a "Enter Cydia/APT URL" text box pop up.
Step 2: AppSync is a very popular Cydia tweak thus there are a few AppSync repo you can add to get this app. AppAddict repo (appaddict.org/repo) is one recommended Cydia repo to download AppSync. Alternatively, you can any of these Cydia sources:
http://repo.appvv.com
http://repocydia.com
http://repo.hackyouriphone.org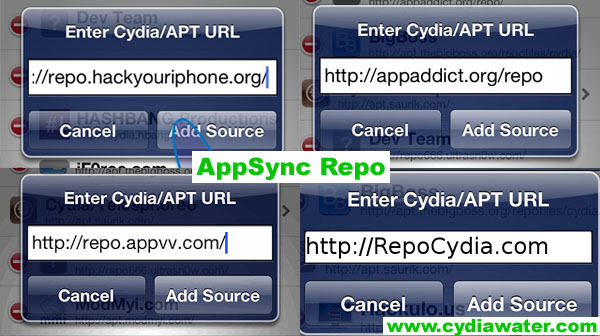 AppSync Repo
Step 3: Tap on "Return to Cydia" button once the repo is installed. Now go to the Cydia repo you just installed and search for AppSync. Each AppSync version is made for particular iOS version. For example, AppSync 7.0+ is made for iOS 7, AppSync 6.0+ is made for iOS 6, and AppSync 5.0+ is made for iOS 5. Select AppSync 7.0+ if you are running iOS 7.x.x or above. Select only ONE AppSync that work with your iOS version and tap on it to install it.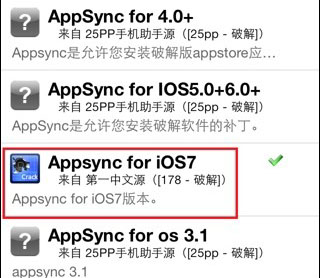 AppSync for iOS 7
Disclaimer: The step by step guide above is purely for tutorial purposes. It is not recommended to rob apps that are developed by programmers. It is always suggested to buy an app after trying it.
advertisements