How To Jailbreak iOS 9-9.0.2 With Pangu
advertisements

Pangu Jailbreak team releases version 1.1.0 for iPhone, iPad, and iPod Touch users who are using iOS 9-9.0.2. This is definitely a must-do thing today if you are hunting for the best Cydia apps. This time, Pangu Jailbreak developer brings bug fixes and perfections for jailbreaking 64-bit devices such as the iPhone 6S. If you are still using Semi Jailbreak iOS 9, you can now unthethered jailbreak it with Pangu 1.1.0 with our step-by-step tutorial below.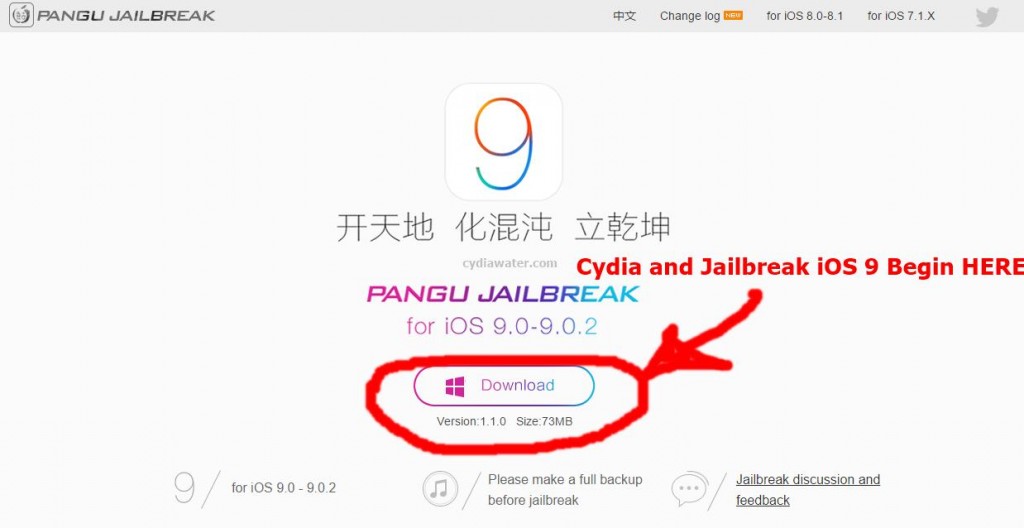 How to Jailbreak iOS 9-9.0.2 with Pangu 1.1.0
By following the step by step guide below, you can jailbreak iPhone 6S Plus, iPhone 6S, iPhone 6 Plus, iPhone 6, iPad Air, iPhone 5S, iPad mini, iPod Touch or other devices capable of running iOS 9-9.0.2. So far, you can only jailbreak iOS 9 devices using a Windows PC. Pangu team has promised to us that a Mac version will be available soon.
Step 1: First of all, backup our device.
Step 2: Disable Find My iPhone from Settings -> iCloud -> Find My iPhone. It will be Find My iPad if you are jailbreaking an iPad.
Step 3: Just like how you jailbreak iOS 8 with Pangu, disable Passcode via Settings -> Touch ID & Passcode.
Step 4: Enable Airplane mode via Control Center and connect your iPhone/iPad/iPod Touch to your PC using USB cable.
Step 5: Go to Pangu official website at pangu.io to download Pangu 1.1.0 jailbreak tool for iOS 9.0-9.0.2. The program size is 73MB. Run the program once it is completed.
Step 6: Pangu will now detect your iOS 9 device. Click Start to begin jailbreak. Click Already Backup when a Jailbreak Notice is prompted.
Step 7: The program will reboot your iOS device. You will be prompted to set your device into Airplane mode again. The jailbreak process will then continue.
Step 8: At 75%, you will be prompted to unlock your device and give access to the Photo Library. Just tap Accept and OK to continue.
Step 9: Your iPhone, iPad, or iPod Touch will reboot again and now you should be able to see the brown Cydia icon appear on your home screen.
You are now able to run Cydia and install any paid apps you have been dreaming for free! On top of that, you can also try some of the best Installous alternatives for iOS 9 jailbreak apps. Among them, AppCake, AppAddict, Kuaiyong, iFunBox and vShare are very popular among iOS 9 users.
iOS 9 Jailbreak Common Error
If you happen to see the warning of "Disk is almost full", do not panic. This is common because Pangu are writing some files into the system partition during the jailbreak process. Once the jailbreak is done and Cydia is installed, the warning message would disappear.
If you have followed the steps above to jailbreak iOS 9 with Pangu but failed, please check if you have switched your iPhone to airplane mode before jailbreak. Also, try to reboot your iOS device and your PC then try again. Alternatively, you can also use the restore features in Pangu to restore your iOS device. Lastly, please do not hesitate to leave a comment here if you still failed to jailbreak iOS 9 and download Cydia.
advertisements