advertisements

Learn how to add Cydia sources to your iPhone, iPad or iPod Touch so that you can install cracked apps, tweaks, games, themes, ringtone, and any mods you want. Without the right Cydia source, you can't add the apps you want. This is because some apps only available at certain Cydia repos. For example, AppCake, vShare, Kuaiyong, Pandaapp and others. It takes only 6 easy steps to add a Cydia repo to your Cydia. It is a must to learn it so follow the guide here to begin!
Adding a Cydia Source
Cydia only works on jailbroken devices, thus, you will only be able to add a Cydia source to your Cydia on a jailbroken iPhone, iPad, iPad Air, iPad mini or iPod Touch. You can follow the steps here to jailbreak and download Cydia if you haven't jailbreak. Start to add Cydia sources with the steps below once you are jailbroken.
Step 1: Open up Cydia by tapping the icon on your home screen. Tap on the Manage button located in between Changes and Search buttons.
Step 2: You will see Packages, Sources and Storage. Tap on Sources to see all the sources and repos you have installed.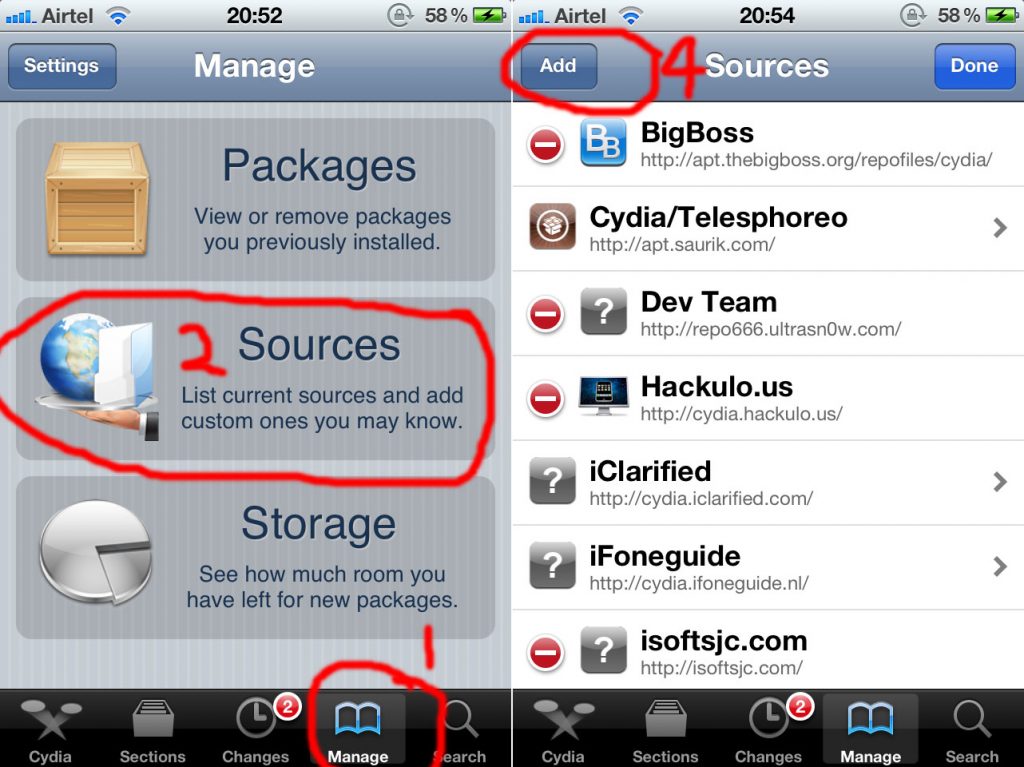 Step 3: Tap on Edit button located at top right corner.
Step 4: Tap on Add button located at top left. A "Enter Cydia/APT URL" will appears. This is where you need to key in the Cydia source or Cydia repo URL you want to add. For example, type "http://apt.bigboss.org" if you want to add BigBoss repo. Tap Add Source to continue.
Step 5: Cydia will now verify the URL automatically. Generally, Cydia will prompt you a Source Warning message. "The repository has been reported by the community to be illegally redistributing copyrighted works. We cannot stop you from using it…" Tap on the Add Anyway button to continue.
Step 6: Sometimes, you will see a black screen with a few lines of coding in white. This appears when Cydia is updating the source you add. You don't have to do anything and let the program do the job. Within a few seconds, the source will be added to your Cydia.
To check the Cydia source you have just added, go to Cydia > Manage > Sources. Scroll down and you should be able to see the new Cydia sources. Check your internet connection if you failed to add a Cydia source.
How to Add Default Cydia Sources
There are a few Cydia sources come with Cydia when you install it. They are BigBoss, ModMyi, Ste Packaging, iSpazio, Telesphoreo Tangelo, and ZodTTD & MacCiti. It is very easy to add any of these default Cydia sources to your Cydia.
Step 1: Launch Cydia and go to More Package Sources.
Step 2: All the default Cydia sources will be listed at this page. Tap on the repo you want to install.
Step 3: Tap OK if you see a warning message. Go to Cydia > Manage > Sources and you should be able to see the new Cydia source.
Now you can search for the Cydia apps you always wanted to install! Last but not least, you are welcome to leave a message here if you face any problem while learning how to add Cydia sources.
advertisements