vShare for Android Free Download
advertisements

Perhaps you already know the advantages of using vShare on iOS but have you ever tried it on an Android device? It is extremely easy to download vShare for Android compared to vShare for iOS. There is no jailbreak involve for all Android devices and the entire process takes less than 5 minutes if your internet connection is fast. Just like iOS, you can install free apps, games, wallpaper, themes, ringtone and even customize your Android devices with some of the top apps available in vShare.
How to Download vShare for Android
It's free to download vShare for Android. All you need to do is follow the guide here to download vShare Market APK and then install it to your Android devices.
Step 1: Open a web browser from your Android. It can be Google Chrome, Internet Explorer or Mozilla FireFox.
Step 2: Enter www.vshare.com/android.
Step 3: Tap on the green download button to download vShare Market. vShareMarket2.1.0_0929_release.apk is the newest APK available from vShare and it works on all kinds of Android versions.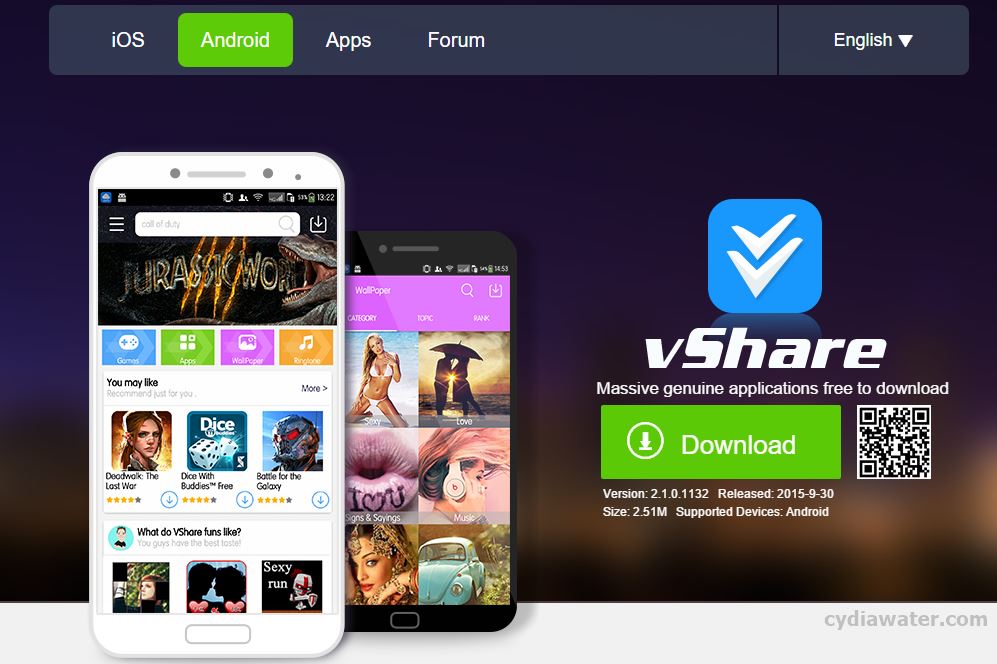 Step 4: Tap on vShare APK file and tap Package installer. Tap Install when you are prompted "VShare Market – Do you want to install this application?"
Step 5: You will see "Application Installed" within a minute. You have successfully install vShare for Android.
You can now use vShare on your Android device to look for free apps or games. With vShare Android Market, you can download Minecraft Pocket Edition ver:0.12.3 for free. Many Apple users use vShare iOS 9 to play Minecraft and other ipa games for free. Other than that, Terraria is also available for free via vShare. With vShare, Android users can play Terraria with iOS users at the same time.
vShare for Android Not Working
Although vShare Android Market is proven work on all kinds of Android devices, there are still some people failed to install it. Generally, the main problem is due to connection error. There are thousands of devices connected to vShare server every day and it is common to see an error in connection. Try to restart your phone and reinstall vShare if it is not working during the first trial. Alternatively, please do not hesitate to leave a message here if you are still fail to install vShare on Android devices.
vShare Alternatives on Android: AppCake, Kuaiyong, Pandaapp or the best Installous alternatives.
It's without doubt that vShare is one of the most popular app among jailbreak community because it allows iOS users to install cracked apps. Additionally, it also permits Apple users to customize their own iPhone or iPad with some of the best Cydia apps available. Whether you are an Android user or iOS user, it is highly recommended to use vShare.
advertisements