Download Cydia without Jailbreak from OpenAppMkt
advertisements

The method to download Cydia without jailbreak is like a long-lost Shaolin Kung Fu. There are many jailbreak users go after it because it sounds like it exists while it is actually not really there. In the iOS world, there are a few methods where you can really get cracked apps without jailbreak. OpenAppMkt is one name that you should know if you are hunting a best way to download Cydia without jailbreak. OpenAppMkt is one of the best sources that provide iOS users a broad range free iOS apps and tweaks. Apps available in the server are updated from time to time. In the recent days, you can even find a lot of iOS 7 apps.
OpenAppMkt is actually a HTML5 based web apps provider. The meaning of web apps means you don't actually install any apps on your iPhone, iPad, or iPod Touch. The app is hosted at OpenAppMkt server and you can use it by accessing the software directly from your iOS device. Try to think how do you play Candy Crush Saga in Facebook? Or how do you play Flappy Bird online without the need to install the game to your device? They are basically the same idea. In this case, you don't have to install the app to your iOS device. Hence, there is no jailbreak needed to run OpenAppMkt or any cracked apps. On the other hand, OpenAppMkt hosts Cydia program too so you can use Cydia without jailbreak. It is a necessity to download OpenAppMkt now and try it out. This is the only way to know how great this Kung Fu is.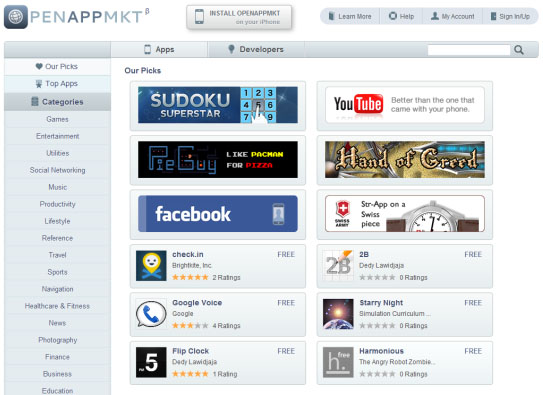 Download OpenAppMkt
It is clearly mentioned that you don't need to install anything on your iOS device in order to run an app from OpenAppMkt. Therefore, you don't really need to install a piece of software or program from OpenAppMkt in order to run OpenAppMkt. However, there is a need to "download" OpenAppMkt. The so called "download OpenAppMkt" means adding a bookmark to your Safari or your browser. Open up a browser from your iOS device and access to www.OpenAppMkt.com. There is a huge button "Install OpenAppMkt" on top of the page. Just tap on it and the bookmark will be added to your browser in no time. You should try to install some apps, themes, tweaks, or games. The concept of having apps without requiring a jailbreak is definitely awesome.
OpenAppMkt Alternatives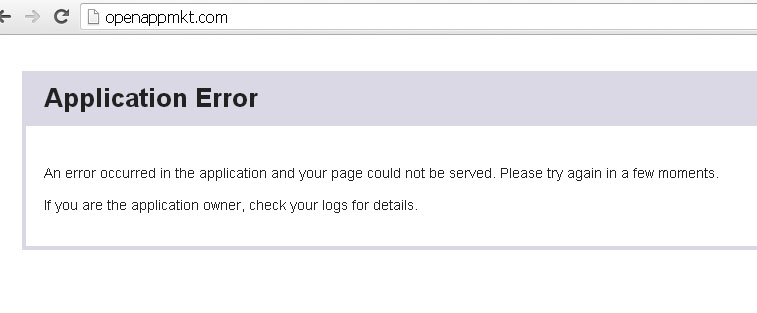 The latest update we get from OpenAppMkt official website is "Application Error". It has been like that for a couple weeks and we do not know it is schedule maintenance or the end of the day for OpenAppMkt. Just in case OpenAppMkt is going to meet its maker like Installous, you should check out some of the craziest apps which also allow you to download Cydia apps without jailbreak. They are Kuaiyong, Zeusmos, AppCake, vShare, Pandaapp, and HipStore.
advertisements

Posted by
Vega
| Categories:
Cydia
| Tagged:
appcake
,
Cydia Download
,
Download Cydia
,
HipStore
,
HTML5
,
installous
,
Kuaiyong
,
OpenAppMkt
,
Pandaapp
,
vshare
,
Web Based Apps
,
Zeusmos
|