Pangu Jailbreak on iPhone 6 with iOS 8 and iOS 7
advertisements

The iOS world gets shocked when Pangu jailbreak for iOS 8.1 is released because iPhone 6 users don't expect to get an untethered jailbreak so fast. Well, it is not surprised because Pangu jailbreak is already popular for iOS 7.1.1 and iOS 7.1.2 for iPhone, iPad, and iPod Touch. This awesome jailbreak tool is actually developed by a very brilliant jailbreak team based in China and they call themselves PanGuTeam. PangGuTeam has been working on the iOS 8 and iOS 8.1 jailbreak since it was released no longer ago and now it is finally available.
Pangu is a free jailbreak tool and anyone can download it for free through its official website. It is safe to be used on both Windows and Mac platforms. The latest Pangu version for Windows OS is 1.2.1 and for Mac is 1.2.0. You may download the .exe setup file or .dmg file from its server for free. It is not recommended to download it elsewhere as it might not safe. For those who are hastening to jailbreak their iPhone 6 or any iOS 8 or iOS 7 devices, you might follow the step by step tutorial here to download Pangu and jailbreak it within 10 minutes.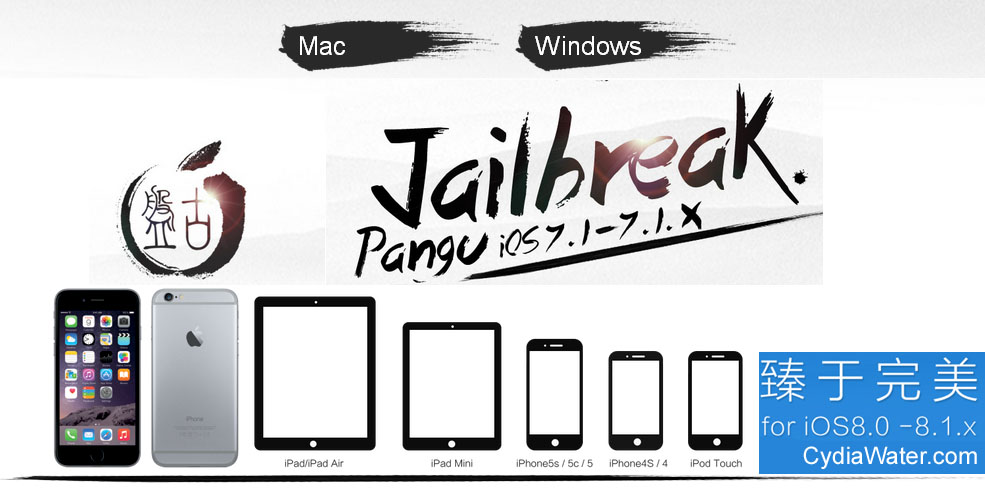 Pangu Jailbreak with Windows or Mac Tutorial
This is a complete tutorial for Pangu jailbreak. Pangu is considered a new jailbreak tools. Although it has been tested on most iOS devices include iPhone 6 Plus, iPhone 6, iPhone 5S, iPhone 5, iPhone 5C, iPhone 4S, iPhone 4, iPad Air, iPad Mini, iPod Touch and proven that it works flawlessly, it is still highly recommended to backup your iOS device before jailbreak. Also, you will have to download Cydia after the process because Pangu doesn't come with Cydia.
Step 1: First of all, run a fresh restore of iOS 8.1 on your iOS device with iTunes.
Step 2: Access to Settings -> iCloud -> Find My iPhone and disable it.
Step 3: Access to Settings -> Passcode and then disable the Passcode Lock.
Step 4: Install iTunes to your PC if you are performing the jailbreak with Windows. Connect your iOS device to your PC or Mac and make sure iTunes recognizes it.
Step 5: Download Pangu jailbreak tools from en.pangu.io. Make sure you get the right version for either Windows OS or Mac OS X.
Step 6: For Windows version, you have to run the .exe setup file. Once Pangu is available, open it and select Run as administrator. Pangu tool will take a few seconds to recognize your iOS device.
Step 7: Click on the jailbreak button once Pangu recognize your iOS device. The button is in blue color. Give it a few seconds until the jailbreak process is completed.
Step 8: Now you should be able to see Pangu app on your jailbroken iOS device.
You might want to try some of these apps to get cracked apps once the jailbreak for iOS 8 is successful: AppCake, vShare, Kuaiyong, Zeusmos, and other Installous alternatives.
If the jailbreak process is failed, for example, Pangu jailbreak timeout, you are stuck at loading resources, or Pangu is not working at all although you have followed the steps above, this could be the Pangu jailbreak tool you downloaded in Step 5 is crashed. You need to download it again and repeat the steps. Again, if Pangu is still not working for you, share your experience, problems, or questions with the comments features below.
advertisements