vShare Not Working: Fix The Error
advertisements

vShare has been one of the most popular apps in both jailbreak and non-jailbreak communities. This is because vShare provides tons of free Cydia tweaks for both jailbreak and non-jailbreak iOS devices. vShare has been around ever since iOS 7 was launched and people keep using it in iOS 8 as well as iOS 9. Recently, we have published a step-by-step guide to download vShare iOS 9 on iPhone, iPad and iPod Touch. Many people get benefits from the tutorial but there are also some people complaining vShare not working on iOS 9, iOS 9.0.2, iOS 9.1, iOS 9.2, iOS 9.3. Below are the most common errors iOS users face when they try to download vShare on iOS 9.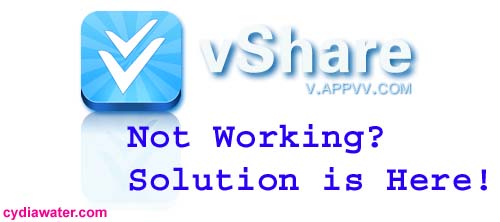 vShare Not Working: Common Problems
The most common thing iOS user forgot to do is to trust the app in Settings. Go to Settings -> General Profiles -> Click on different profiles -> Find Sichuan Lanyan Investment and trust it. Other than that, these are the emails we received saying vShare not working on iPhone, iPad, iPad Pro, iPad mini, iPad Air, and iPod Touch. Most of them are on iOS 9 while some are on iOS 8.4.
Catherine Tan: I am not able to open vShare app on my iPad. There is no "Trust" that appear. I only see Cancel button.
Bryan: I cannot install MovieBox or Playbox HD to my iPad Air from vShare. What should I do?
Michelle: Trying to install Minecraft to my iPhone 6S Plus from vShare. I was able to load but not able to open the app. Any idea?
Teresa: Installed vShare on my iPad iOS 9 but it doesn't give me the option to trust. There is just a cancel button.
Tony: Try to download vShare on my iOS 9 and the error message I get is "Unable to download app". I was trying to download Movie Box to my iPhone 5C running iOS 9.0.1 without jailbreak.
Rogelio: My device keep saying "You can't Download at this time" when I go to vShare Market and try to install vShare on my iPhone 6. I am using iOS 9.3. It is the latest without jailbreak as iOS 9.3 jailbreak is not available yet. (See TaiG iOS 9.3 Jailbreak)
Angela: vShare is working on iOS 9.0.2 with jailbreak perfectly. However, I was only able to use it for a few days. The app stops working and not able to load. I have trusted the developer through profiles but vShare won't work again.
The solution? In some countries, vShare is not working without jailbreak. Therefore, if there is no trust button, try to jailbreak your iOS device and then install vShare again. On top of that, give some time to vShare developers and they will do their best to fix all the error everyone is facing.
Check out vShare for Android if you would like to try this wonderful apps and get paid apps on your Android devices. Last but not least, please do not hesitate to voice out with the comment features below if vShare not working for you.
advertisements