Top 3 Best Jailbreak Tools for iPhone, iPad and iPod Touch
advertisements

Speaking about Apple jailbreak, it is something easy yet hard. It is easy to jailbreak an iPhone, iPad or iPod Touch if you follow closely the step by step guide available in this website. It is very hard to jailbreak if you don't know where to start, what to do or use the wrong jailbreak tool for your iOS version. This article is to share the top 3 best jailbreak tools for all Apple products include the latest iPhone, iPad pro, iPad mini and iPod Touch. Each jailbreak tool is made for different iOS version, thus, it is recommended to check your iOS version before choosing the right jailbreak tools to begin the jailbreak.
Pangu Jailbreak Tools
Pangu Jailbreak is currently one of the best jailbreak tools for iOS 9.0-9.1. This jailbreak tool is able to jailbreak any iOS 9.0-9.1 iDevices such as iPhone 6S Plus, iPhone 6S, iPhone 6, iPhone 5, iPhone 5S, iPhone 5C, iPad Pro, iPad mini and others. Follow the step by step guide here to learn how to jailbreak iOS 9 with Pangu. The latest Pangu version is able to jailbreak up to iOS 9.1 and the team is working on the jailbreak for iOS 9.2, iOS 9.2.1, iOS 9.3 as well as iOS 9.3.1. For other iOS 9 versions, see iOS 9.2.1 Jailbreak and iOS 9.3.1 Jailbreak. On the other hand, you can also jailbreak iOS 7.1.2 with Pangu in just 5 minutes. See How to Jailbreak iOS 7.1.2 for detail tutorial.
TaiG Jailbreak Tools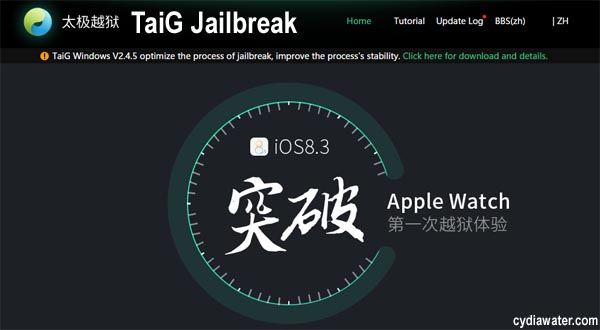 There are rumors saying TaiG iOS 9.3 jailbreak is already available but it has been proven as fake news. However, TaiG is the second option you can use to jailbreak and download Cydia to any of your iOS 8.4, iOS 8.3 or other iOS 8 devices. It is highly recommended for iOS 8.4 users because the user interface is extremely easy to be used and it takes less than 15 minutes to jailbreak an iPhone runnning with iOS 8.4 version. For the entire jailbreak guide with TaiG, see TaiG iOS 8.4 jailbreak guide. In addition to that, you can also use TaiG jailbreak to jailbreak Apple Watch as well. It works on both Mac and Windows and support iOS 8.1.3-8.4.
PPJailbreak (25PP)
PPJailbreak (PP Jailbreak) or 25PP is the last jailbreak tool we are going to review here. It is capable to jailbreak iOS 3.1, iOS 4, iOS 5, iOS 6, iOS 7.1.2, iOS 8.4 and also iOS 9.0-9.1. PPJailbreak works on both Mac and PC. To begin the jailbreak, all you need to do is download the application and run it from your PC or Mac. Connect your iOS device to your computer via USB cable and run the program to jailbreak it. PPJailbreak is developed in China and so far it is one of the best jailbreak tools for iPhone, iPad and iPod Touch. As there is no guarantee for all jailbreak tools, it is strongly recommended to backup all your personal information and data using iTunes or iCloud before you begin to jailbreak.
Last but not least, if you don't prefer jailbreak but want to try some cracked apps or games, you may try to install vShare, Kuaiyong, to your iOS devices.
advertisements