advertisements

Welcome to iOS 9! Whether you are using iOS 9.1 or iOS 9.2 beta, it is very hateful to see all the ads that appear within Safari browsers. These ads are disturbing and consuming your data usage at the same time. iOS 9 comes with a new feature called Content Blockers which act like Ad Blocker. The Content Blockers is able to block advertisements, tracking data and many others. Overall, it is very good to be used but it is limited to a certain features and not everyone know how to use it, so let's see what are the best free Ad Blocker for iOS 9.
1Blocker (Free or In-App Purchase of $2.99)
1Blocker is one of the most popular Ad Blocker for iOS 9 because it gives you the power to control almost everything. With just $2.99, you can block ads, Facebook Widgets, Twitter widgets, tracking attempts, Disqus comments, adult websites, cookies, any URLs and many more through toggle settings. On the other hand, you can choose the type of ads you want to see and hide those ads you hate. In other words, you are able to block anything you don't want it to appear on your iOS 9 devices. You can download the free version if you don't feel like to use all the features. The free version basically just blocks ads. For those who want the full version for free, you may try your luck at AppCake, Kuaiyong and AppAddict iOS 9.


Adamant (Free)
Adamant is a new app. It is a free content blocking app for iOS 9. This app is capable of running on any 64-bit iOS 9 device such as iPhone 6, iPhone 6 Plus, iPad Air, iPad mini, iPhone 5S, iPhone 5 and others. With Adamant installed, you can block banner ads, popovers, and invisible tracking scripts. It blocks all the irrelevant things on your iOS 9 device to make it run faster and gives you a better battery life for your iPhone, iPad, Apple Watch and iPod Touch. To download Adamant, simply go to App Store and you can get this Ad Blocker app for free.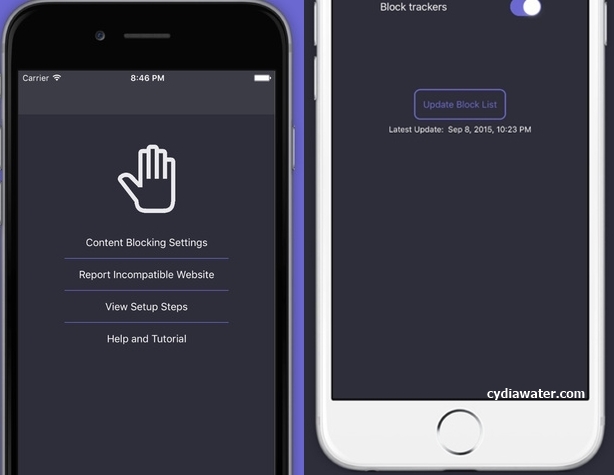 Ad Block Multi
According to a test run by Brooks Review, Ad Block Multi is one of the top 3 best Ad Blocker for iOS 9 because it speeds up your browsing and loads web pages faster. When all the unwanted ads, banners, tracking scripts, malware and obtrusive notices are removed, Ad Block Multi helps you to save your mobile bandwidth. Ad Block Multi is a new app and it is not available for free in the App Store. You will need to download vShare iOS 9 and get it for free from vShare.


Adblock Fast (Free)
Try Adblock Fast if you are searching for an alternative to all the iOS 9 Ad Blockers. Just like the name of the apps, it accelerates your device and make everything run faster without ad. It also runs an optimized ruleset to load pages faster and consume less system resources. Adblock Fast works perfectly on iPhone 5s, iPhone 6, iPhone 6S, iPhone 6S Plus, iPad Air, 6th generation iPod Touch and other iOS 9 devices. To get Adblock Fast app for free, simply go to the iOS App Store.


Ad-Blocker for Safari
You can download Ad-Blocker for Safari from App Store for free. This app works on all the iOS 9 devices except devices with a 32-bit processor such as iPhone 5C and iPad 2. Basically, Ad-Blocker features a list of the largest ad distributors on the web and it will block all the ads according to the list. You can also block a specific HTML elements using the Custom Filters feature. Clickbait, tracking scripts and banner ads can be blocked with just a click of a button easily. Most important, Ad-Blocker is a free app and it cost nothing to use it.


List of Ad Blocker for iOS 9
Other than the mentioned Ad blockers, these are a few more Ad Blocker for iOS 9
AdMop
Blockr (cost $0.99)
Clearly
Clickbait Blocker
Crystal (cost $0.99)
Freedom
Hide and Seek
Just Content
NoAds
Peace (cost $2.99. You can get it in Cydia App Store for free)
Purify Blocker (cost $3.99)
Safari Blocker
Silentium
Vivo AdBlocker
If you have time and would like to make your own Ad Blocker for iOS 9, you can use an open-source ad blocker builder called Block Party. You can build your own Ad Blocker using Xcode. Although it sounds difficult, many people have did it and share their app out for free.
advertisements

Vega
| Categories:
Cydia
,
Jailbreak
| Tagged:
1Blocker
,
Ad Block Multi
,
Ad Blocker
,
Adamant
,
Adblock Fast
,
AdBlocker
,
AdMop
,
Blockr
,
Clickbait Blocker
,
NoAds
,
Silentium
,
Vivo AdBlocker
|