advertisements

Some Cydia users are really happy with certain apps they found from Cydia store. For some reasons, these apps can stay in their iPhone, iPod Touch, or iPad for a long time. These apps are often awesome, cool, and top rated in Cydia store. In the beginning of August 2013, let us check out what are the top 10 Cydia tweaks for this year. Some of these apps are new in quarter 3 and we believe most of them will stay in the top 10 list until 2014 or perhaps 2015 if the developers update the app from time to time. Let's see what the best of the best Cydia apps are.
SBSettings
The first tweak top the list is SBSettings. SBSettings has been in the market for a few years ever since Cydia was introduced. It works well on iOS 5, iOS 6, and iOS 7. Today, it is widely recognized as a must-have Cydia tweak because of its capability to make an iOS application works quicker. Brightness adjustment, Bluetooth On/Off, Airplane mode, Wi-Fi, and other frequently used functions can be done within few taps with SBSettings.
App Switch
App Switch, the name explains it all. This tweak allows you to add any custom apps up to a maximum of four in the App Switcher. No time is wasted every time you want to switch an app to use because all it takes is less than 3 clicks.
AppCake
While some people may not consider AppCake as a Cydia tweak, it deserves a place in the top 10 list because of its contribution to the jailbreak community. AppCake is considered as an iOS app that served the community with thousands of cracked apps. If you hadn't considered its power before, you certainly are now.
vShare
Since AppCake is in, vShare deserves a seat in the top 10 list. vShare is yet another tweak that allows you to download cracked apps through its user friendly platform. For those who love games like Temple Run for PC or paid apps, you can get it free from vShare.
IntelliscreenX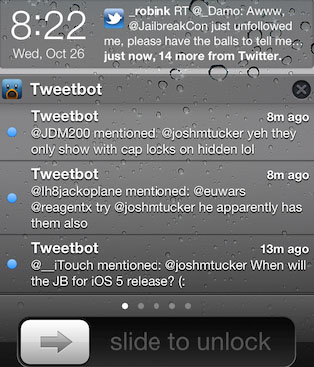 What most people do when they get online through their smart phone? Facebook, Twitter, eBay, Youtube, or Amazon? IntelliscreenX is the coolest tweak for you to get Facebook and Twitter update on your lock screen. Besides, NotificationCenter and RSS feeds can be added through the settings. Why waste the display while you can show some useful information?
AirBlue Sharing
One of the coolest Cydia tweak that top the list is AirBlue Sharing. This tweak works very good on iPhone 4 or 5 because it offers native Bluetooth pairing, high-speed file transfer, Wi-Fi sharing, and anything you can do with Bluetooth technology but at a faster speed.
iBlacklist
It is as simple as blocking/hiding all the phone calls and messages you don't want to receive from a particular phone number.
Zephyr
Due to its coolness, this tweak was mentioned once in our top 10 best Cydia apps of all time. It was mentioned a few times in many other websites due to its functionality and again, its coolness. Zephyr is a cool Cydia tweak that adds multitasking gestures to an iOS device. The Multitasking switcher is hidden and will appear once you swipe from top to bottom.
Springtomize 2
Springtomize 2 is a new comer in Cydia world. Many people said this is a must have Cydia app because it allows you to modify the look of your phone with customized themes, wallpaper, and icons. It works well on iOS 6 and soon iOS 7. And just like that, you should see the best Cydia themes of all of time after you downloaded Springtomize 2. Ayecon theme, Boss iOS theme, and Sublime Lock HD theme, they are waiting for you!
Infinifolder
Don't hate your iPhone or iPad if they can't accept more than 9 apps in a folder. Now you can install this app and add as many apps as you want in a folder. They can be 10, 11, 12, 13, and etc.
Even though the top 10 Cydia tweaks were as recent as 2013, things changed every day in technology world. Give your thoughts with the comment box below if you have a better tweak to recommend.
advertisements