advertisements

People who always enjoy their tea time with us will notice that iFunBox is a delicious food that always place on the table. iFunBox is frequently mentioned because it is one of the best Installous Alternatives. iFunBox has the same objective with Installous which allows a jailbreak user to install cracked apps. However, it is not a mobile app but a free desktop based application that allows you to install IPA files to an iPhone, iPad, or iPod. In other words, you can install cracked apps to an iOS device through a Mac in a New York minute.
How to Download Free Apps with iFunBox
Step 1: As mentioned above, iFunBox is a desktop based application that enables you to install cracked apps. Therefore, the first thing you need to do is jailbreak your device and install Cydia. Cracked apps are not going to work on any non-jailbreak device. Once a device is jailbroken, install AppSync to it because it gives you the option to update an app in the future. AppSync can be installed directly from Cydia easily.
Step 2: Now you need to install iFunBox. Whether you are using Windows or Mac, the installation file can be downloaded from this link. iFunBox for Windows is using .exe while iFunBox for Mac is using .dmg file. As for iFileExpress for iPhone, or iPad, they are always .ipa files.
Step 3: You have installed iFunBox, connect both your jailbroken device and your computer together. Launch iFunBox from your desktop and wait for it to detect a connected iOS device. Once a device is detected, you can select it in the left-panel.
Step 4: The job for iFunBox is to install cracked apps to your iOS device, thus, you will need to download a cracked ipa to your pc or Mac for iFunBox to "send" the file to your iOS device. Once you have got the IPA file on your computer, click on the green "Install App" icon on top as shown in the image to install the app. All you have to do is waiting for a few seconds and iFunBox will run the installation automatically.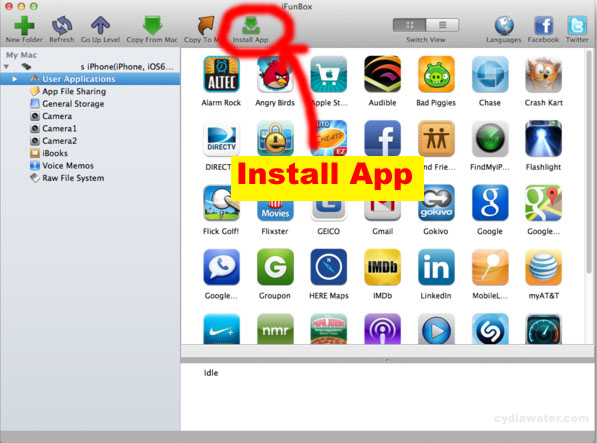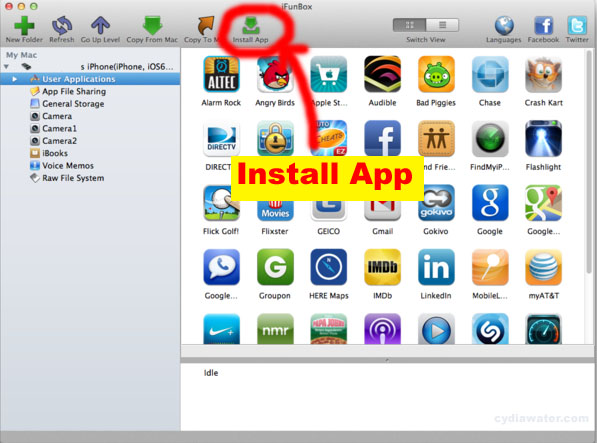 iFunBox Features
It works on iOS 5, iOS 6, and even iOS 7. In the past, many iOS users nag that Installous 5 is not working on iOS 6. iOS version won't be a problem for iFunBox.
Except installation of cracked apps, iFunBox has many other features such as copying of files, photos, video, or music in between mobile device and PC or Mac. Most important, it is free software.
iFunBox works like a backup apps because it backups all the apps installed to your device.
Other than using this wonderful app on iOS device, iFunBox works the same way on PC with Windows OS and Android phones too.
In conclusion, iFunBox is an amazing software with so many special features that most of the techie would need in their daily life. As the technology keep changing, if you have followed the steps above and found a question or have a comment, please share it out with the comment box below. Sharing is caring!
advertisements