advertisements

You are definitely reading the right page if you are hunting the top 10 best Cydia apps for iPhone. Among the top 10 list, most of them are free Cydia apps and only some of them are paid apps. For those free Cydia tweaks, you can go to the Cydia repo that hosts these apps and download it straight away for free. All these apps works on almost all iPhone models including iPhone 4, iPhone 4S as well as the latest iPhone 6 and iPhone 6 Plus. They are must have Cydia apps for every iPhone users in 2015 until 2016. Besides iPhone, they are also the best Cydia apps for iPad and iPod Touch.
Top 10 Best Cydia Apps for iPhone
These apps work on all iPhone Models include: iPhone 1st gen, iPhone 3G, iPhone 3GS, iPhone 4, iPhone 4S, iPhone 5, iPhone 5C, iPhone 5S, iPhone 6 and the newest iPhone 6 Plus.
1. Winterboard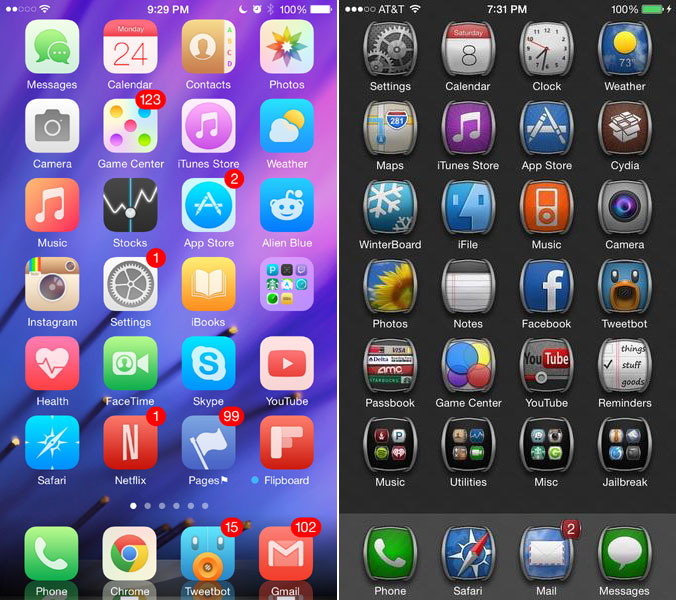 Winterboard has been the must have app for iPhone users who want to customize their iPhone and iPad. It works like an app which lets you install themes onto your iPhone. On the other hand, you can change the app icons, dock, background, fonts and styles or add new functional widgets and more. Ludicrously said, but not totally, a lot of iPhone users jailbreak and download Cydia because they want to install Winterboard to change the look of their iPhone. In recent months, Winterboard has been updated to support new features of iOS 8.
2. Activator
Activator is one of the best free Cydia apps for iPhone users because it lets you activate apps via gesture, shortcuts and buttons. This app supercharges your iPhone home screen by giving you on-screen gestures. The newest version allows you to assign actions to Touch ID and that's absolutely a cool thing to do on an iPhone. Most importantly, Activator is a free app and it is available to download from Cydia App Store.
3. BattSaver
Unlimited battery life is almost every smartphone user's dream but we know it is something impossible. However, you can have a cool Cydia app to extend your iPhone battery life and this cool Cydia tweak is BattSaver. This app monitor applications or games that are running and it will shut them down when they are not in use for a period of time. It costs $3.99 to download BattSaver from BigBoss repo. Alternative to BattSaver are 360 Battery Saver Pro and BatteryDoctorPro.
4. iBlacklist
iBlacklist is a very simple but powerful app. It blocks any phone numbers you entered to the app. It block calls, SMS, iMessages, facetime and MMS for all iDevices including iPod 4 and iPad 2. Alternatively, you can also hide calls and messages but not blocking them. Many iPhone users download this app to hide "things" from their husbands and wives.
5. CCControls
CCControls is a cool Cydia app that gives you the power to customize Control Center. You can change the appearance of the Control Center, hide the sections of Control Center or hide the music control when they are not needed. With CCControls installed, you can also get some nice Cydia themes for free.
6. DockShift
DockShift is a free Cydia tweak that allows you to change the look of the dock. iPhone or iPad users can get rid of the blurry background of the dock in iOS 7 devices. On top of that, DockShift allows you to change the background of dock with at least 10 ready-made themes from the menu. It is a simply yet free Cydia app by loved by many iOS users especially those using iPhone 6 and iPad Air.
7. HideMe8
HideMe8 is a new Cydia apps updated for iOS 8 users. This app provides you various useful features to hide any UI element you don't want to see. The menu makes everything easy. You can enable/disable any UI elements with just a tap. Under Control Center, you can hide Airdrop section, Brightness section, QuickLaunch section, Settings section and more. Under LockScreen, Camera Grabber, NC Grabber, Date, Clock can be hidden. As for Notification Center and Springboard, you can hide Bottom Separator, Status bar, Icon Labels, Tapped Show Icons and many other things. Go to BigBoss repo and you can purchase HideMe8 for $2.00.
8. AdBlocker
80% of free Cydia apps come with advertisement and it could be an annoying thing. Here comes an awesome app called AdBlocker. AdBlocker blocks almost all unwanted ads on Safari as well as third party browsers. AdBlocker is not a free apps and it is available for $2.19.
9. BioProtect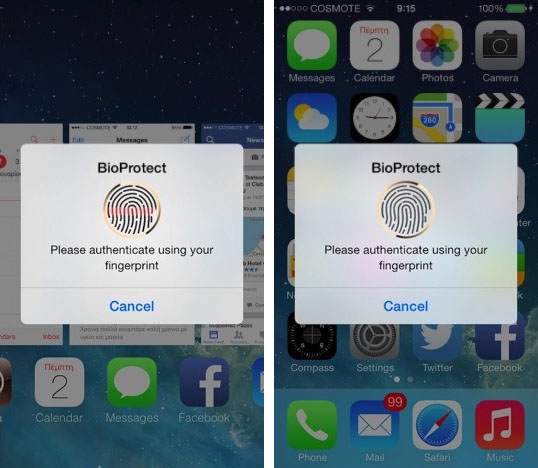 What most people want for jailbreak apps? Customize their iOS device, block all the hatefull advertisements, change the icons, extend the battery and what else? Of course, protect your privacy. BioProtect gives you an extra protection by adding the fingerprints feature to your iPhone, iPad and iPod Touch. Using this jailbreak tweak users can only access to apps after the BioProtect has verified authorization using their fingerprint. This is a paid app and it can be purchased at $2.99. Try AppScan if you want a BioProtect alternative that is free.
10. iCaught U
iPhone are the most commonly stolen smartphone, thus, it is a must to have an app like iCaught U. iCaught U adds an amazing security feature to iOS devices by enabling the device to take a photo from the front camera if a person enters the wrong passcode for a few times. The photo will be sent to the owner's email together with the GPS location of the phone. Most significantly, iCaught U is a free Cydia app. Instead, you can buy iCaught U Pro for $2.50. In a nutshell, iCaught U is a must have app if you often lost your iPhone or iPad.
All the above mentioned apps work on iOS 7, iOS 7.1.2, iOS 8, iOS 8.1.2, iOS 8.2 and iOS 8.3. In case you have installed them and don't like them, you can follow this tutorial on How to delete Cydia apps to delete them.
Other than the listed Cydia apps above, BytaFont2, Assistant Unrestrictor, BiteSMS, BetrFoldr, Bigify, Bloard, ByPass, CroppingScreen, Folder6Plus, ForceReach, NoSlowAnimations, PrefDelete, RecordMyScreen, SpinSettings, Swipey, TetherMe, UntetheredHeySiri, Zeppelin, are some other top Cydia apps you may try on your iPhone, iPad and iPod Touch.
advertisements