advertisements

Since iOS 9 was released, many readers send us a question, "How to downgrade from iOS 9 to iOS 8.4?" It is not surprise to see many Apple users are finding ways to downgrade from iOS 9 to iOS 8 because the jailbreak for iOS 9 isn't really ready. Although you can download vShare iOS 9 without jailbreak to get free apps, there are still some limitations.
There are a few methods to downgrade iOS 9 to iOS 8.4 but you have to make it quick because some of these methods are not going to work soon. You won't be able to downgrade back to iOS 8.4 when Apple decided to stop signing for iOS 8.4. Follow the steps here to downgrade from iOS 9 back to iOS 8 and restore iOS 8.4 before it is too late. Once you back to iOS 8.4, you can then jailbreak it again with TaiG iOS 8.4 jailbreak tools.
Method 1 – Downgrade from iOS 9 to iOS 8.4
This is one of the simplest technique to remove iOS 9 and reinstall iOS 8. You don't need any advanced knowledge to do it and it take you less than 20 minutes. See also: how to downgrade iOS 8 to iOS 7 and downgrade from Yosemite to Mavericks.
Step 1: Backup is vital. So, backup everything you need. During the downgrade, the process will delete everything and you won't be able to get it back. By the way, there is no way to restore the backup because iOS 8 is not compatible with iOS 9 backups. You will need to use an archived iOS 8.4, iOS 8.4.1 or earlier backup to restore everything.
Step 2: Look for the .ipsw file of iOS 8.4 or iOS 8.4.1 version from your Mac. Find it at youruserfolder/Library/iTunes/iPhone Software Updates or iPad Software Updates or iPod Touch Software Updates. If you don't have it with you, search for it from the internet. There are plenty of them available for free. Make sure you download the appropriate file that matches your iOS device.
Step 3: Connect your iPhone, iPad, or iPod Touch that you wish to downgrade from iOS 9 to iOS 8 to your Mac or PC. Open the .ipsw file and launch iTunes. In iTunes, select your iOS device and then Summary.
Step 4: Disable Find my iPhone/Find my iPad/Find my iPod Touch feature from Settings -> iCloud. Hold the Alt/Option key (on Mac), or Shift key (on Windows) and click the Restore button.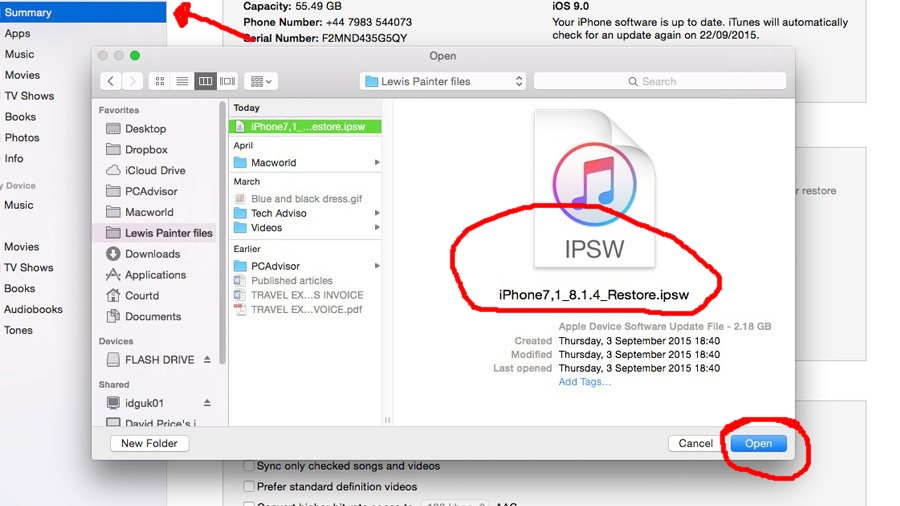 Step 5: Now go to the iOS 8.4.1 ipsw file and click Open. iTunes will automatically downgrade your iPhone or iPad from iOS 9 to iOS 8.4.1.
Step 6: Within a few minutes, iTunes will update your iOS device to iOS 8.4.1 from iOS 9. It will verify iOS 8.4.1 with Apple. Click Update once you are prompted a message. Your iOS device will restart and you will be ready to use iOS 8.4.1 again. You can jailbreak it again with TaiG and download Cydia to it to enjoy cracked apps.
Method 2 – Downgrade from iOS 9 to iOS 8.4 Jailbreak with TinyUmbrella or iFaith
Some said this is a tricky method but somehow it works on iPhone 5, iPhone 5S, iPhone 6, iPhone 6 Plus, iPad Air, iPad mini, iPod Touch, Apple Watch and some other iOS 9 devices. Be it TinyUmbrella or iFaith, you can downgrade from iOS 9.1 beta to iOS 8.4 within 5 minutes. Try it and let us know your downgrade process with TinyUmbrealla or iFaith.
In conclusion, if you have recently upgraded to the new firmware and feel regret, downgrade from iOS 9 to iOS 8.4 or iOS 8.4.1 now before it is too late. Instead, if you decided to keep your device to the latest iOS 9, you can try AppCake, Kuaiyong and AppAddict on iOS 9 to get paid apps for free.
advertisements